BANTAM OF THE OPERA
ENGLISH COUNTRY DANCE BAND
BANTAM OF THE OPERA
comprises four musicians: Jane Edmed, Gary
Elford, Sue Galvin, and David Evison.
Our caller, Trevor Robertson has a wealth of knowledge of English Country Dances,
including the 17th Century Playford Dances. He is in every way a fine Dancing Master.
We play a wide range of instruments, including trombone, flute, tin whistle,
guitar, mandolin, fiddle, and assorted percussive instruments. We have all played in various bands over some years and
the Bantam Band was formed in mid 1995. We initially played for dances only, but owing to
increasing demand to perform at public functions, we were obliged to expand our repertoire.
We now perform whatever takes our fancy, with an eclectic range of styles, ranging from
vaudeville, traditional to contemporary folk song and dance music, with the odd classical,
music hall and pop standard thrown in, the emphasis perhaps being on odd.
A number of us have been involved in Morris dance and its music to a greater or lesser
extent, and this has given us access to a large number of excellent dance tunes, and a certain
degree of lunacy.
Playing for dancing is our main area of expertise, and Trevor's calling abilities have proved
invaluable. We don't take ourselves too seriously and our intention is very much to entertain.
We believe that if we are enjoying ourselves, which we do, this will show through our music
and infect the audience.
We have performed as guests for dancing and concerts at Folk Festivals throughout New
Zealand over the last fifteen years, playing at Whitestone, Canterbury, Wellington, Whare
Flat, Auckland and Waihi Bush Folk Festivals, the Akaroa Festival, the Cardrona Folk
Festival, the Hokitika Wild Foods Festival and Tui Farm Festival.
We provide our own sound and stage lighting system.
Enquiries to Gary Elford at Ch Ch 0064-03-9805244...mobile 027-274-0101 or email Gary at:
gelford2512@garyelford.com 
Diamond Harbour Barndance October 2015
Diamond Harbour Barndance October 2016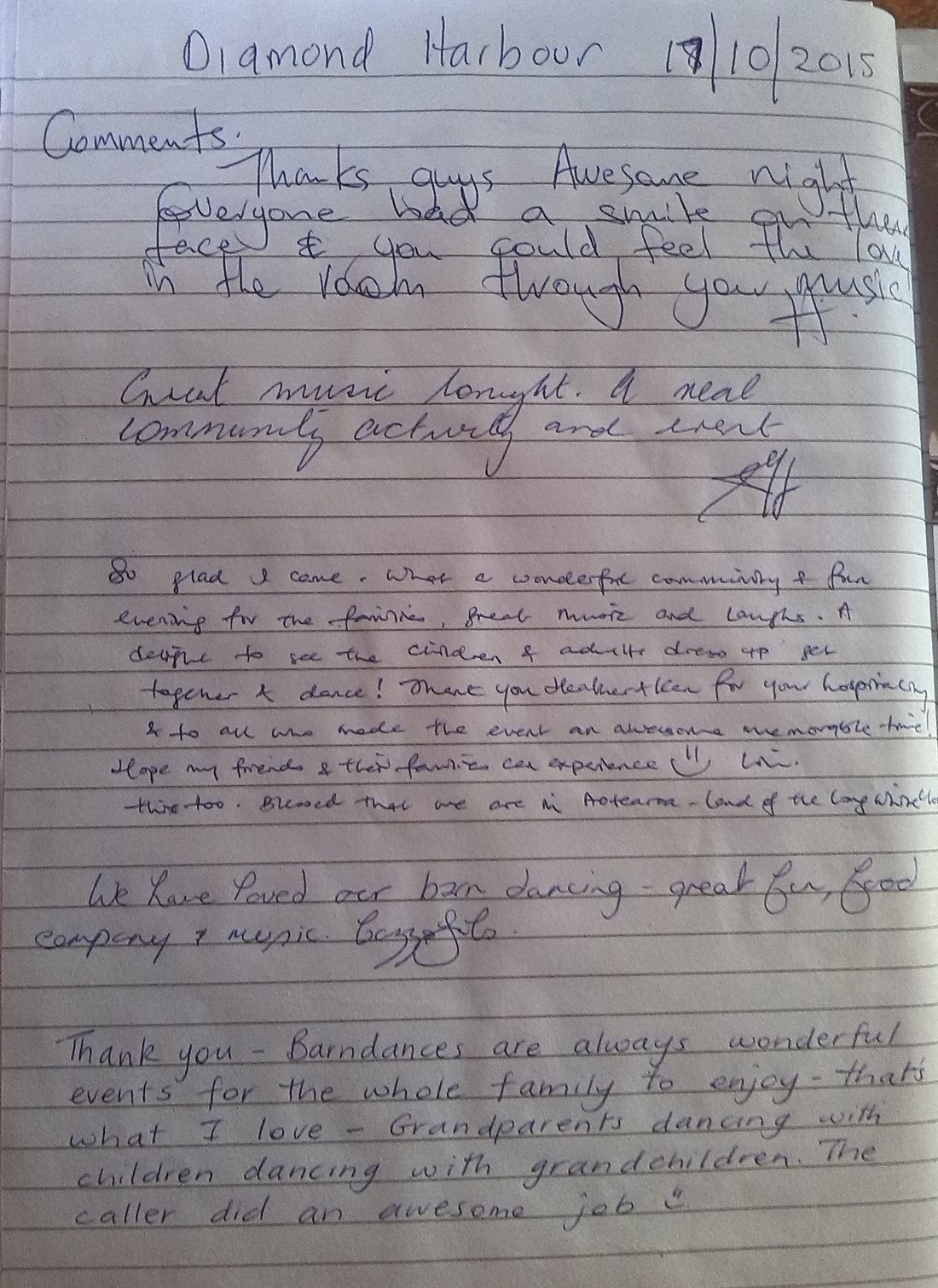 Edmunds Garden Party October 2015